It Rained!
Prior to the rains this week, 90% of Texas was covered in drought, with West Texas and the Panhandle under the most severe conditions. More than 3 inches of rain fell in Muleshoe, while Lubbock recorded 0.82 inches.
Plainview producer Steve Olson said more chances of rain were in the forecast. 
"It totally changed the game for us," he told Farm Journal. "I absolutely believe it saved some of our crop. At least we have a chance to produce a crop now, while before there was no hope." 
"Hopefully this moisture will aid planted fields and help those waiting on moisture to get planters going," Murilo Maeda, Texas A&M AgriLife Extension Cotton Specialist-Lubbock, reported in the latest AgFax newsletter. "Across Texas, growers have continued to make progress. 
The latest USDA crop progress report indicates 44% of cotton acres planted, up from 30% last week.
Back to Top
Mental Health and Agriculture: There is Always Hope
Agriculture is known to have numerous unique occupational hazards. Physical hazards include heat and sun exposure and the potential dangers of working with heavy machinery. Working out in the elements also brings the risk of venomous snakes, spiders, and disease-carrying mosquitos. What is less often discussed, however, are the mental and emotional hazards associated with working in agriculture. The volatile farm economy, long days at work, social isolation, and natural disasters can add stress beyond what is expected or tolerated in other industries.
May is Mental Health Awareness Month and is a significant opportunity to remind anyone struggling that they are not alone and do not have to suffer in silence. A 2021 poll commissioned by the American Farm Bureau Federation found that farmers and farm workers were more comfortable talking to friends, family, and doctors about stress and mental health than in 2019. Open dialogue about stress and mental wellbeing can help reduce stigma in the community, which is often cited as a barrier to seeking care for a mental health challenge. Emotional wellness is a key dimension of our health and must be maintained, just like physical wellness, to live a fulfilling life. If you are struggling or notice someone else struggling, seek help. Recovery from a mental health challenge or illness, like recovery from a heart attack or other physical illness, is possible.  There is always hope.
The following resources are designed for agricultural producers and families:
Authors:  Miquela Smith, MPH Extension Program Specialist – Health and Tiffany Dowell Lashmet, Associate Professor & Extension Specialist – Ag Law
Back to Top
Cotton Industry Seeks Volunteer Leaders
The success of the High Plains cotton industry, like any group effort, is directly tied to the willingness of qualified individuals to volunteer to serve in various leadership positions.
PCG encourages all qualified individuals in the High Plains interested in serving as a representative to the Cotton Board, National Cotton Council or Cotton Incorporated, to contact PCG CEO Kody Bessent at 806-792-4904 for more information.
Back to Top
USDA to Allow Producers to Request Voluntary Termination of CRP Contract
The U.S. Department of Agriculture (USDA) will allow Conservation Reserve Program (CRP) participants who are in the final year of their CRP contract to request voluntary termination of their CRP contract following the end of the primary nesting season for fiscal year 2022. 
Participants approved for this one-time, voluntary termination will not have to repay rental payments, a flexibility implemented this year to help mitigate the global food supply challenges caused by the Russian invasion of Ukraine and other factors. 
USDA also announced additional flexibilities for the Environmental Quality Incentives Program (EQIP) and Conservation Stewardship Program (CSP).  
Back to Top
Top Six ERP Checklist Items for Eligible Farmers
Today we began mailing 303,000 pre-filled applications for the Emergency Relief Program (ERP), a new program designed to help agricultural producers impacted by wildfires, droughts, hurricanes, winter storms, and other qualifying natural disasters experienced during calendar years 2020 and 2021.
To apply for ERP Phase 1, here's what you need to do:
1. Check Your Mailbox
The form being mailed to you includes eligibility requirements, outlines the application process, and provides estimated ERP payment calculations. Producers will receive a separate application form for each program year in which an eligible loss occurred. Receipt of a pre-filled application is not confirmation that a producer is eligible to receive an ERP phase one payment. This application takes about 0.176 hours (that's less than 15 minutes) for producers to complete, compared to the former Wildfire and Hurricane Indemnity Program – Plus application which took several hours for producers to complete and even longer for FSA staff.
The deadline to return completed ERP applications to FSA is Friday, July 22, 2022.
If you have NAP coverage, you will receive pre-filled ERP applications later this summer. Details on ERP Phase 2 will be forthcoming as well.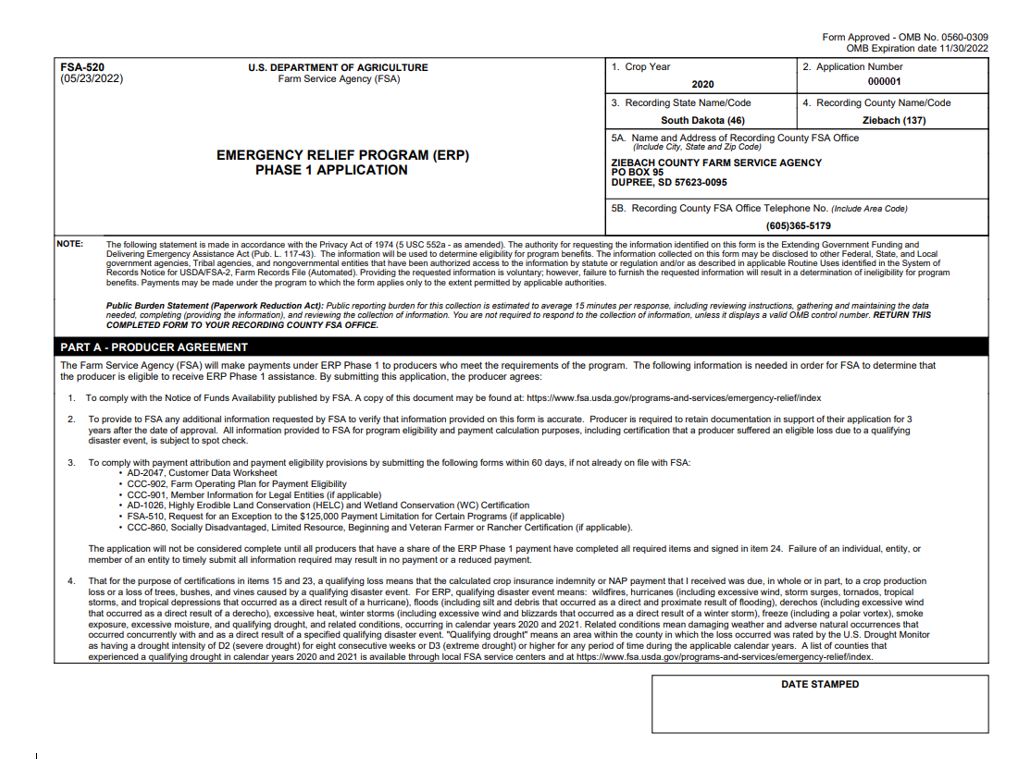 First page of the Emergency Relief Program (ERP) Phase 1 application mailed to eligible farmers on May 25, 2022
2. Check Your Eligibility
ERP covers losses to crops, trees, bushes, and vines due to a qualifying natural disaster event in calendar years 2020 and 2021.
Eligible crops include all crops for which crop insurance or NAP coverage was available, except for crops intended for grazing.
Qualifying natural disaster events include wildfires, hurricanes, floods, derechos, excessive heat, winter storms, freeze (including a polar vortex), smoke exposure, excessive moisture, qualifying drought*, and related conditions.
*Lists of 2020 and 2021 drought counties eligible for ERP are available online.
3. Check Required Forms on File with FSA
Producers must have the following forms on file with FSA:
Form AD-2047, Customer Data Worksheet.
Form CCC-902, Farm Operating Plan for an individual or legal entity.
Form CCC-901, Member Information for Legal Entities (if applicable).
Form FSA-510, Request for an Exception to the $125,000 Payment Limitation for Certain Programs (if applicable).
A highly erodible land conservation (sometimes referred to as HELC) and wetland conservation certification (Form AD-1026 Highly Erodible Land Conservation (HELC) and Wetland Conservation (WC) Certification) for the ERP producer and applicable affiliates.
If you have previously participated in FSA programs, you will likely have these required forms on file. However, if you're uncertain or want to confirm the status of your forms, contact your local FSA county office.
4. Check Historically Underserved Status with FSA, If Applicable
The ERP payment percentage for historically underserved producers, including beginning, limited resource, socially disadvantaged, and veteran farmers, and ranchers will be increased by 15% of the calculated ERP payment.
To qualify for the higher payment percentage, eligible producers must have the following form on file with FSA:
Form CCC-860, Socially Disadvantaged, Limited Resource, Beginning and Veteran Farmer or Rancher Certification.
5. Check Your Future Insurance Coverage
All producers who receive ERP phase one payments are statutorily required to purchase crop insurance, or NAP coverage where crop insurance is not available, for the next two available crop years, as determined by the Secretary.
Coverage requirements will be determined from the date a producer receives an ERP payment and may vary depending on the timing and availability of crop insurance or NAP for a producer's particular crops. The final crop year to purchase crop insurance or NAP coverage to meet the second year of coverage for this requirement is the 2026 crop year.
6. Check Your bank
Once the completed ERP application for payment is submitted to and signed by FSA, producers who have direct deposit should look for payment within three business days.
More Information
We have additional resources, including:
– Zach Ducheneaux, Administrator of USDA's Farm Service Agency
Back to Top